Denis O'Toole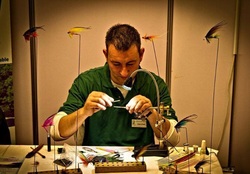 Denis is 36yrs old and lives on the East Coast of Ireland,

He has been tying flies for the past 17 years and specialises in modern salmon and sea trout flies. Denis has tied flies for some of Ireland's top fisheries including the Drowes Fishery.

Denis has contributed flies to the recent published book on Irish Sea Trout Fishing, Nomads of the Tides, he has been a regular demonstrator at fishing shows around Ireland for the last number of years and in 2013 Denis joined A.M. Angling's pro fly tying team.



Click on the images below to enlarge Denis's flies.
---