Tyer Profile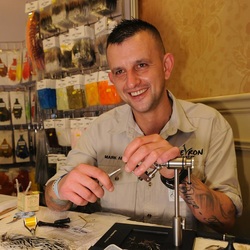 I'm 34 and I started fly fishing at a young age, and one thing that always intrigued me was the artificial flies and bugs that were used and tied.
To be able to tie all the different variations of flies and bugs is something truly amazing and a piece of art.
As fly tyers we are always learning and creating different flies to which is unlimited and is the natural beauty of fly-tying.
I have fished a lot of my local rivers and fisheries near and around Perth and the specimen of fish are absolutely stunning.
The moment when you feel that take is the best feeling and especially if its on one of your flies that have been tied by yourself.
As fisherman we all love and have the same feelings when it comes to this sport and make so many friends in the process!.
Thanks,


M
ark
Click on the images below to enlarge Andy's flies.
---