Andy (Chasing Silver) Elliott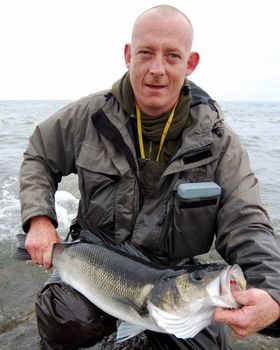 When I started saltwater fly fishing for Bass back in 2001 the only patterns available to buy in the UK were clousers, shrimps and poorly tied deceivers.
I started tying my own in 2004 and have never looked back my personal best bass of 12 1/2lbs fell to one of my own creations and now I supply most of the Bass guides in Ireland and a few further afield from Hong Kong to America.
I tie mostly saltwater flies but my pike flies are becoming increasingly popular both here in Ireland and the USA. My most notable designs so far are a fly for Jim Hendrick which caught three specimen Bass in one session for him and a client in 2009.
A fly that I designed for Gerard Smyth of Border fishing guides with which he caught a blue shark, and my own coastal sea trout killer the bug beel which has accounted for countless coastal sea trout over the years.
I have tied at the British fly fair, Irish international fly fair, Irish Fly Fair, Hooked live , Angling Ireland, and various Game fairs.
I have recently launched my own range of tying materials available on our website
www.chasingsilverflies.com
*Facebook:*
https://www.facebook.com/ChasingSilverFlies
Email:
info@chasingsilverflies.com

Click on the images below to enlarge and view Andy's flies.
---