Nickolas Wright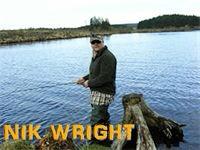 My names Nick Wright I am 44 Years of age and live in Rhyl, North Wales,
I am the proud Owner of Deer Creek, a fly tying materials company which I started in 2008 that can be found at
www.deercrek.co.uk
I first started fishing at the age of 10 on my local corse lake "Brick Fields" it was here I caught my first ever fish a perch, by the age of 12 I had developed a Very keen interest in fly fishing and fly tying and was lucky enough to be able to fish the river Clwyd, upon which my Godfather Owned a stunning 1/2 mile stretch in the nearby city of St Asaph.
I would spend many hours here fishing for the salmon & seatrout, I also started tying at the age of 12 when I was given a basic vice and tying kit by my god fathers son Darren Johnston. Now after more than 30 years I still love tying as much today as I did back then. My main quarry now is still the seatrout from the Clwyd but I also try to get out in search of the grayling on the river Dee and the sea bass from the coast as much as possible.
For more on Nick and Deer Creek check out his website at http://www.deercreek.co.uk
---
---