Gareth Lewis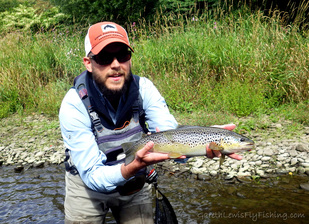 Hailing from the base of the beautiful and picturesque Brecon Beacons National Park in South Wales, Gareth Lewis is a river fly fishing guide, professional game angling instructor, and member of the Game Angling Instructors' Association.
Gareth's fishing is firmly rooted in the world of small stream tributaries and the larger free-stone waters of the Wye, Usk, and Taff catchments, and likewise, his tying is matched to suit.
Specialising in both small stream and main-stem river fly fishing techniques for wild trout and grayling, Gareth is a passionate fly tier with a love for small stream dry-fly patterns, sub-size #20 dries and emergers, and 'micro' midge imitations tied to emulate the lifecycle of the Chironomid (Diptera) order.
For more information, simply visit
www.garethlewisflyfishing.com
or follow Gareth's blog, Fly Fishing in South Wales, at
www.ffisw.com
.
---
---