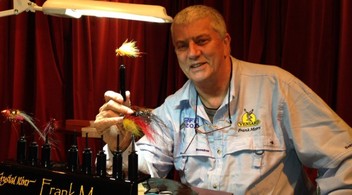 Frank has been tying flies since the age of sixteen, having started fishing at the age of ten. His early interest in coarse fishing slowly diminished and he became, almost exclusively, a chaser of fish on the fly.

By this time he was regularly visiting northern England and Welsh and Scottish rivers in pursuit of true wild fish.

Having developed his early tying skills by tying small batches of flies for local shops to help cover those early trips and tackle costs, he soon became known locally, in Cheshire, as an accomplished tyer of salmon and sea trout flies. At this time he was also actively working with the local Fly Dressers Guild and his tying skills were becoming more widely known.

He was soon invited to submit a number of magazine articles, introducing his Blue Alexandra variant, Jungle Cock Elver and the popular Nitro Shrimp – with the name Moors it had to be the Nitro!

Frank now ties regularly at the UK's major Fly Fairs and has demonstrated his skills in Ireland and Holland where his tube fly tying experience is much sought after.

Known particularly for his salmon and sea trout flies, he also ties great trout, grayling, pike and saltwater patterns and has a growing personal passion for tying classic salmon patterns.

Just recently Frank has taken the time to gain AAPGAI status at the Advanced level in Fly Tying.

Frank's general background knowledge on all forms of Fly fishing make him a great first contact especially when you need pointing in the right direction and he always make time for those who show a genuine interest.

After a very short time in Frank's company you become aware of his relentless wit and humour but more importantly the simplicity of his approach to fly tying, which has been inspirational to many a beginner and advanced tyer.


---