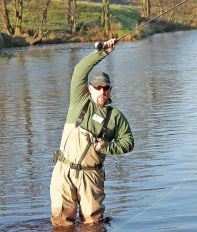 Hi, my name is Chris Aldred, a few years ago, I set out on a personal journey to become an instructor, as I wanted to share my fishing skills. I have had lots of lessons to achieve this, attended numerous fairs and many continual personal development days.
I have travelled across Europe fly fishing and have arrived at a point now where I hold the highest single-handed casting qualification in the UK and the world(APGAI and IFFF MCI).
I am also a qualified APGAI Double-Handed Instructor and IFFF Two-Handed Casting Instructor, as well as a qualified Fly Dressing Instructor, and I have tied and taught at numerous public events, game fairs and shows.
I am proud to be a member of the G.Loomis Pro Guide team here in the Uk, as well as a member of the Ballistic Speylines Pro Staff team worldwide.
To find out more about Chris check out his website at
http://www.gamefishinginstruction.co.uk
---
---