Tyer Profile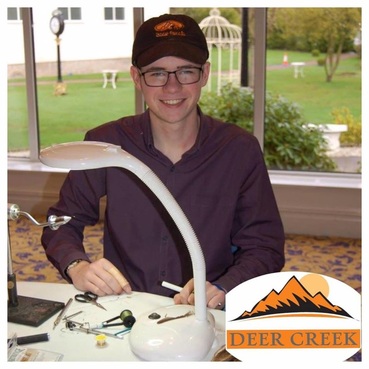 Being the youngster on the Tyers row, I will be bringing a modernised approach towards the traditional methods of river fishing.
I have been brought up alongside the River Clyde, my Grandfather often took me fishing at the age of four to escape for a few hours, this was trotting a worm under a bubble float, something many fisherman can relate too. I have always been interested in the aspect of natural wildlife. Whilst sitting at the edge of the river bank I was keen to find out more about the flies that kept landing on the water. At the age of Seven I finally picked up my first fly rod. My grandfather is a fly fisherman although he has never been interested in the entomology of the sport.
As I was interested in Entomology, I was advised to join a local fly tying club. When I joined I was taught Robert C. Sharp's Clyde style flies right out of the book 'Let's fish the Clyde'. Since then I have studied that book alongside the flies hatching on the water, tying my own variations and generally my own patterns to fish with. Through the years I progressed working on different techniques and understanding my ability to tie a fly.
​
At the age of fourteen. I done my work experience in Europe's largest Fishing Score 'Glasgow Angling Centre'. I now work part time in the shop specialising in Game Fishing/ Fly Tying.
I am still heavily involved with my local tying club with being a member of committee and demonstrating Robert Sharp's ClydeStyle techniques to the members. I am still based fishing the magnificent River Clyde on UCAPA Ltd. Helping out as much as possible with the Club and promoting the charity 'Let's Tackle Cancer'.
I work alongside Deer Creek in their Professional Fly Tying Team specialising in Clyde Style Flies. Working with the best UV resin on the market and also many more materials and tools to choose from, it is a privilege to work for the company.
Now days I fish parts of the river that many fear to tread due to the steep bankings and dangerous river beds. That's what fishing is about for me, finding a large fish in its natural habitat, can't beat that!
Fishing is my passion, dry fly fishing is my sport!




Click on the images below to enlarge David's flies.
---