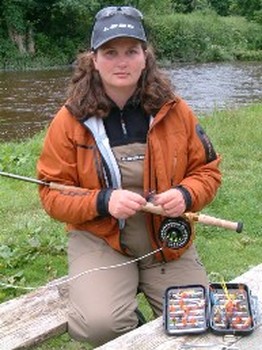 I grew up in a small town called Comber in Co. Down, Northern Ireland, which is approximately ten miles from Belfast on the shores of Strangford Lough. My uncle Michael died when I was nine years old, and left me his fishing rods. I am not sure why he left them to me, but I suspect he knew that I had a passion for the sport even in those early years. I would watch him for hours as he sat patiently tying flies.
I spent hours on the River Inler in Comber trying to catch my first trout with a worm, and eventually succeeded. My interest soon moved towards fly fishing, and I tried to use my uncle's old collection of rods. His rods were not made from modern materials, and were too heavy and long for a young girl to use. For my eleventh birthday my father - who was a keen shooter, but unfortunately did not know how to fish - bought me my first modern fly rod.
I loved the River Inler and spent all my early years in or around it, trying to tempt a trout into taking my fly. Many friendships were formed on the banks of the Inler, and it was a great release from the pressures of every day school life. We were a team - my dog Patch, my fly-rod and me.


At the age of eighteen - while studying my A Levels - I got my first fishing related job. Lough Cowey Trout Fishery near Portaferry consisted of a 40 acre lough with 16 boats and I would help out most weekends from dawn to dusk. I helped with the boats, made thousands of cups of tea, and helped the occasional person to improve their casting.
From then I knew that my passion in life was to chase fish and to teach fly-casting. I had very little interest in my A Levels, or in finding a real job, and left home at the age of eighteen telling my parents that I was going fishing for the rest of my life. You can imagine their reaction!

I arrived in Scotland at the age of eighteen with really no idea of where I was going to live or work. I had heard about the River Dee, and very soon made it to Aberdeen. With being a country girl, I had no idea that Aberdeen was such a huge city, and quickly left the city to find the countryside. I arrived near Banchory, and rented a small cottage in a village called Finzean.

I started to compete - first in the local trout fishing competitions - and then I qualified for the Scottish Ladies Fly fishing Team, who were competing against England, Wales and Ireland in the 1995 home internationals. I was 19 years old and was one of the youngest females to take part in these competitions. These competitions cost quite a lot of money for each participant, and I was delighted when Stuart Spence from The Marcliffe Hotel at Pitfoddles, near Aberdeen offered to sponsor me.

During my time in Scotland, I was assistant to a ghillie on the Dee, rented a stretch on the River Don and was a stalking ghillie on the Cairngorm Mountains hunting Red Stag.

In 1996 my father was suffering from poor health, and I decided to come back to be with him at this time. I set up a small fly-casting business called 'To Cast a Fly' and was based in Greyabbey, Co. Down. I started to teach on all the local trout fisheries, and again was employed by Lough Cowey Trout Fishery.

Whilst demonstrating at a Game and Country Fair in Antrim, I was approached by Irish Equestrian Life & Country Times magazine, and was asked if I would like to write fishing articles for them. Of course I said yes! At this time, I was also asked if I would manage the Irish Ladies International Fly-fishing team, and I also became the Irish sales representative for the Guide Fly-fishing Company in the UK, which involved selling their products - fishing equipment and clothing - to all the tackle shops around Ireland.

In 2004 I was the first female in the world to achieve the standard of APGAI-Irl Salmon (Association of Professional Game Angling Instructors Association certificate)

In 2006 I was the first female in the world to achieve both the salmon and trout APGAI-Irl qualifications. I achieved World Champion for Overhead Salmon Distance at the Emerald World Masters event which was held in Carton House, Co. Kildare in September. Jumped my first bungee jump for charity, and raised €3000 towards a special Wheely Boat which disabled anglers who are confined to wheelchairs can use.

in 2007 I received my first invitations to demonstrate fly casting abroad. Appeared at the prestigious Tweed Fair at Kelso in Scotland and in Canada in July to demonstrate on the Miramichi River for the Miramichi Salmon Association's conservation fund-raising festival.

To find out more about Glenda check out her website at
http://www.ireland-salmon-fishing.net
---
---